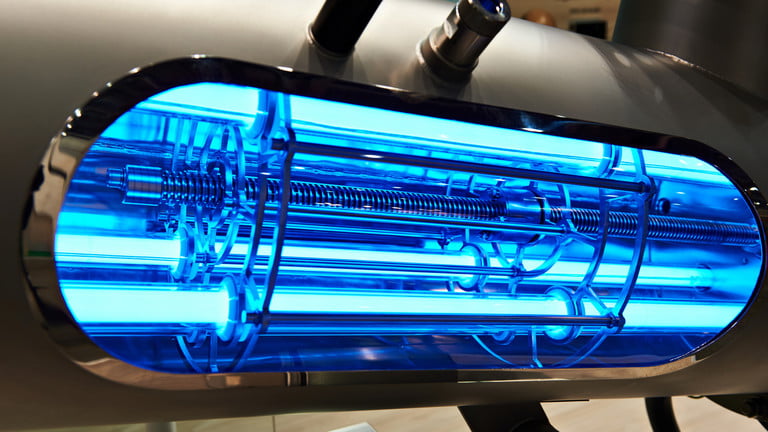 How can we use UV-C Sanitazion Lamps to Kill 99.99% of Germs and Viruses?
Did you know that the air and surfaces within our offices, homes, and workplaces are often more seriously contaminated with germs and viruses than the outdoor air that we breathe? 
What's worse, we spend up to 90 percent of our time indoors, breathing in the air, and touching surfaces that are covered with bacteria and viruses. 
A New and Effective Germ Killing UV-C Sanitation Lamp
Specially designed to sanitize rooms up to 2,100 square feet quickly, our high-intensity UV-C Sanitation Lamp, known as the UV-C Cannon, features electrodeless fluorescent UVC tubes that kill 99.99% of germs, viruses, bacterias, microbes, mold spores, fungi, salmonella, and flu. The UV-C Sanitation lamp is not only useful for sanitizing surfaces but air as well!
How does the UVC Sanitation Lamp Work?
Put the portable stainless steel UVC Sanitazion Lamp in the room and then close all doors and windows. Plug the unit into a power outlet and select the desired disinfection time and press the power button. The UV-C Sanitation Lamp's timer can be set to be on for up to 120 minutes, but on average, you will only need to set the ON time for 6 minutes. 
Once you have your time set, hit the power button, leave the room, and shut the door. Once on, the UV-C Sanitation Lamp will then begin killing 99.99% of germs and viruses that are the room.
What is included with the UV-C Sanitation Lamp?
The UV-C Cannon, our UVC Sanitation Lamp is made of a corrosion defiant stain-less steel enclosure that is 47″ H x 29″ W x 20″ in depth. It features lockable wheels making the unit easily portable from room to room. An integrated 12-second safety delay power on timmer is built-in that prevents the UVC light from turning on before 12-seconds, giving you time to exit the room and close the door. 
The UV-C Sanitation lamp comes with a high-performance Electrodeless fluorescent tube that emits a precise wavelength of 253 nm ultraviolet rays that kills 99.99% of harmful bacterias at the DNA level. A metal mesh protection net is mounted in front of the UVC lights.
Are UVC Sanitation Lamps Safe?
1. Read and save all instructional manuals, warnings, and safety guidelines that are included.
2. Avoid both direct and reflected exposure to the UVS rays that are emitted from the UV-C sanitation lamp.
3. Do not alter the construction or design. Do not remove safety labels or devices.
4. Do not use UVC sanitation for other than its intended purpose, as described in the equipment manual.
5. Do not use the UV-C Sanitation lamp of the power plug or cord is damaged or if any visible damage appears on the unit.
Conclusion
The UVC Cannon is an Industrial UVC Sanitation Lamps that kills 99.99 of germs, viruses, bacteria, cases of flu, microbes, and mold spores. Within minutes of being powered, the high-intensity UV-C Ultraviolet rays sterilize the air and surfaces.
For more information and pricing, contact us today.
Email: info@luxx.com