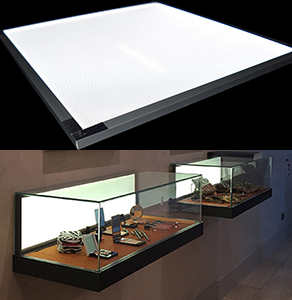 LUXX Light Technology (USA) Inc. features new Light Panel ONE at Global Shop 2018
January 16, 2018
Global Leader in LED lighting rolls out their new LED Light Panel product
Milwaukee, WI – LUXX Light Technology (USA) Inc., a leading manufacturer of customized LED lighting solutions for retail, display, signage, refrigeration and architectural applications is featuring the new LED Light Panel ONE series during Global Shop 2018, the largest retail trade show in the US March 27-29 in Chicago, IL. The Light Panel ONE is a superior edge lit panel that is ultra-slim with an acrylic thickness starting at 4.5mm and is the first in the US to use laser-dotting technology ensuring a brighter, more evenly lit viewing experience and faster lead times. The company offers standard Light Panel sizes in addition to their build-to-order LED lighting solutions to fit custom project needs. Other product offerings will include LED snap and SEG frames.
Andreas Weyer, CEO of LUXX said, "There is a gap in the market where light panels simply are not of the highest quality in terms of materials used and lead times for the products offered by other companies presently pushing orders weeks or even months out. We are filling that gap through our locally sourced high-quality components in addition to offering high-quality edge lit panels accessible right here in the US."
Who: LUXX Light Technology (USA) Inc.
What: GlobalShop 2018
When: Tuesday, March 27; 10:00 a.m. – 5:00 p.m.
Wednesday, March 28; 10:00 a.m. – 5:00 p.m.
Thursday, March 29; 10:00 a.m. – 2:00 p.m.
Where: Booth 3027
McCormick Place West, Hall F
2301 S. King Dr.
Chicago, IL 60616
About LUXX Light Technology (USA) Inc.
LUXX Light Technology (USA) Inc. is a part of LUXX Light Technology Group, an enterprise with over 20 years of experience in the retail lighting industry. LUXX USA specializes in display lighting, shelf lighting, commercial refrigeration lighting, food lighting and light guide panels. With customization and innovation at the forefront of the business, LUXX USA serves lighting needs globally through samples, prototyping, process monitoring and warehousing. Offices are located in the UK, Hong Kong, Netherlands and most recently, the U.S., with production plants in China and Germany. LUXX USA is a member of Shop!. For more product and company information, visit www.luxx.com.
Media Contact:
Maggie Janssen
Marketing Manager
LUXX Light Technology (USA) Inc.